Dwarfs and the truth about love
All around the world, bridges get cluttered with locks. What most people fail to realise is that nothing brings worse luck to their love than the act of locking it up in a little metal cage on a bridge. The rain and river moisture quickly cause the lock to corrode and, along with the corrosion of the lock, the hope that true love can survive will evaporate even faster.
Fortunately, our Wrocław dwarves know what happens to the locks on bridges and they've designated one of their brethren to protect the beloved. Day and night, this brave dwarf keeps his guard at the Tumski Bridge. He opens any locks that were hung unwisely, and he lets the 'imprisoned' love to regain its freedom.
He knows that true love exists between people.
Wroclovka
This poor chap had to carry seventeen and a half tonnes of corroded locks from the Tumski Bridge alone! How to help him? Nothing can be easier! Take the person you love and find the path to your true love right here – in Wrocław.
The female dwarf in love on the bench is connected with the male dwarf sitting on the other side of the bench by a ribbon with an inscription: Wroclove.
It is the day when all couples in love celebrate their affection. This year it was also the day of inauguration of the Wroclaw Day of Good Relations – Against Loneliness.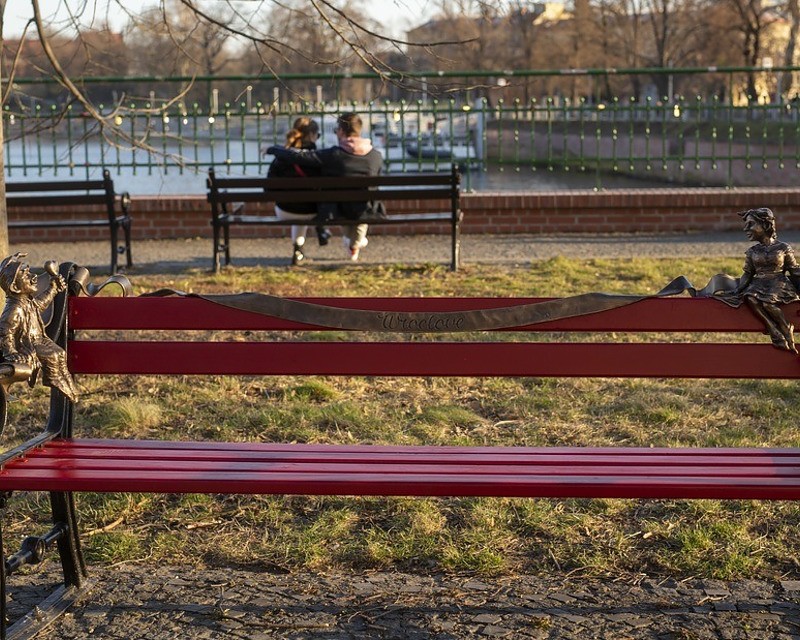 The red bench with two dwarves in love sitting on it is to remind us of the importance of such values as relations with another person, love, friendship and kindness in our life. This exceptional place is to encourage us to find a moment in our daily rush for a brief stop or a short conversation with someone who may need it very much.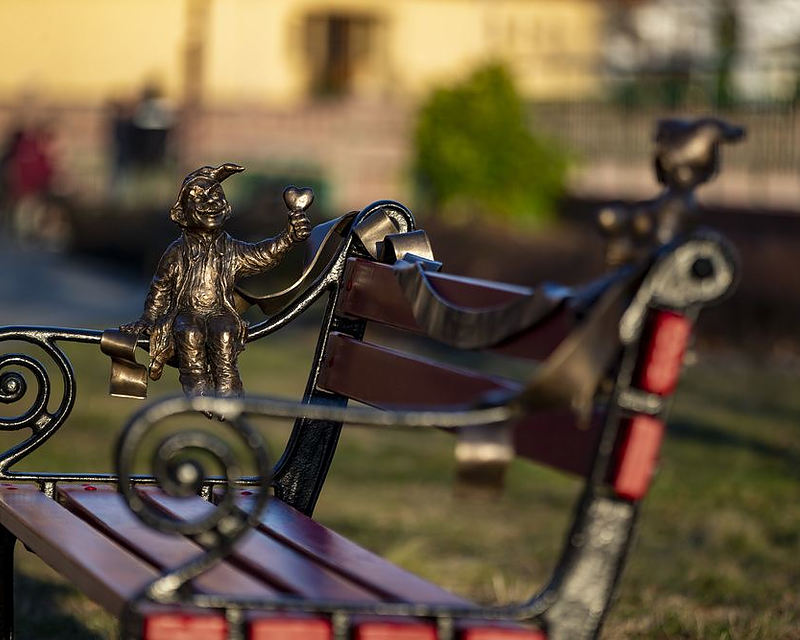 'My Dear and Loved Ones! We have a new symbolic place of love on the map of Wroclaw. I hope you like it! I am waiting for photos of couples in love. I wish you all the best!' says the Mayor of Wroclaw Jacek Sutryk