Students are back in Wroclaw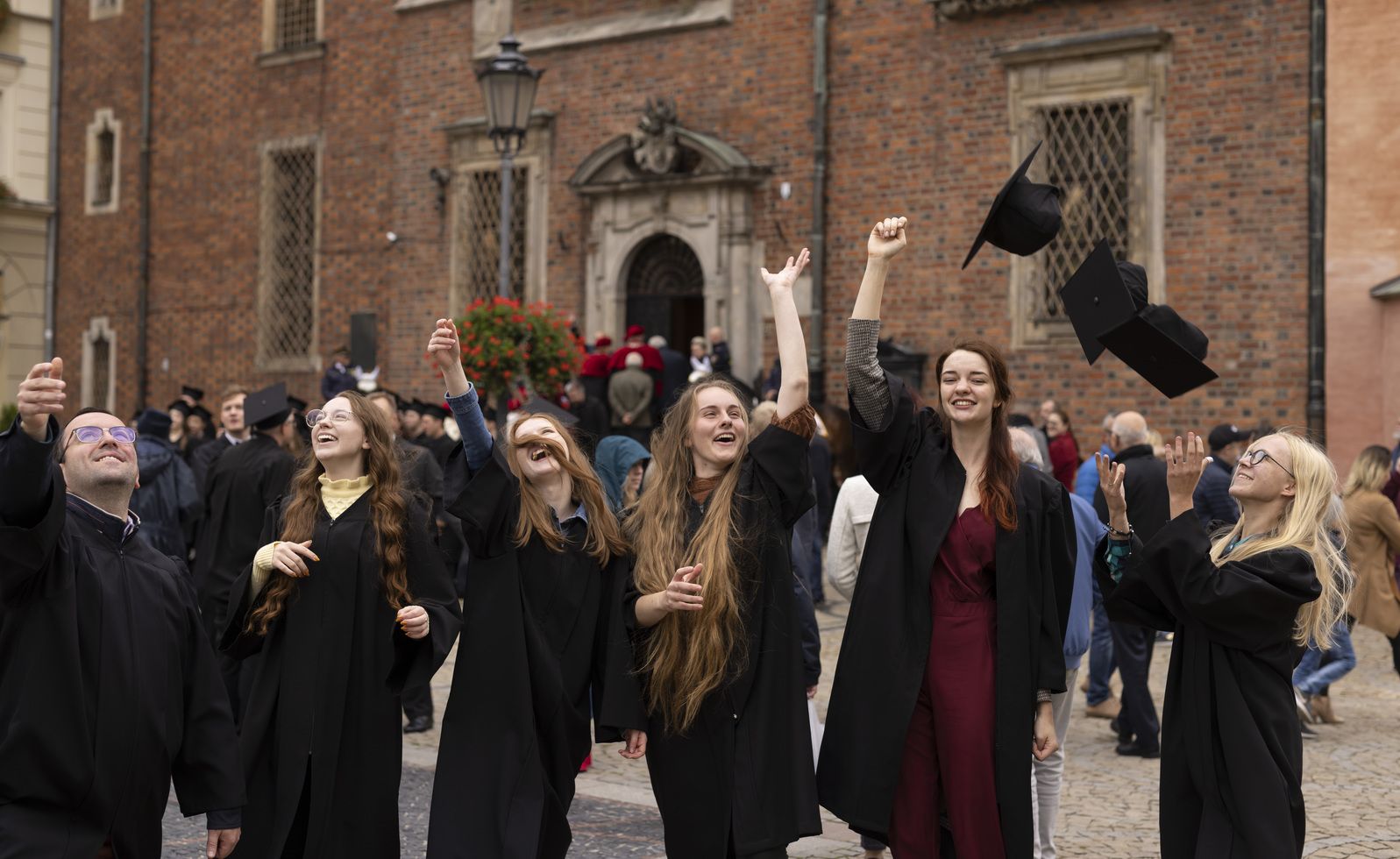 fot. Tomasz Hołod - Students are back in Wroclaw
In total, there are over 106,500 students in Wroclaw. Three out of four students arrive from outside the city. After obtaining a master's or bachelor's degree, most of them stay in Wroclaw. Here they find their first job – often before graduation. The city itself tries to make life easier and cheaper for students.
They arrive from around Poland and the world – only at the University of Wroclaw there are around 1,600 foreigners from 49 countries representing all continents except Antarctica. On the average, over three-quarters of people studying in Wroclaw arrive here from other cities, villages and parts of Poland. Poles and foreigners are attracted by the excellent brand of Wroclaw and a chance for a good life after graduation.
We will see the most colourful part of the student community on the city streets most vividly during Juwenalia days, which will be held in the new academic year again after years of the pandemic break.
Students often find a job in the city already during studies – the unemployment rate in Wroclaw was on the level of 1.6% in September 2022. Anyway, this is a system of connected vessels. Young people arrive in Wroclaw from all sides, and the large number of young and highly skilled potential employees attract global corporations. When announcing their emergence in Wroclaw, Google, Nokia, Volvo, HP, Credit Suisse, IBM, LG, BASF, Dolby, BNY Mellon and other giants highlighted the potential of graduates and the high level of education.
Graduates of Wroclaw universities are very creative and often start businesses, many of them being innovative projects, in Wroclaw.
Trying to ensure that young people arriving here become attached to the city already as students, Wroclaw successfully runs Our Wroclaw and Our Wroclaw MAX programmes. Thanks to Our Wroclaw, young people are entitled to transport discounts or cheaper tickets and passes to cultural institutions, clubs or restaurants when settling their taxes in Wroclaw. The city goes one step further by granting extra benefits to those who register permanent residence in Wroclaw. Such persons can benefit from the Our Wroclaw MAX programme.
When joining the Our Wroclaw programme and settling taxes here, students can set up a virtual library card. Another benefit, which may be quite important for a student's budget, is a 25% discount on the reduced price of season tickets in public transport.
Students will pay 245 or 185 PLN for a reduced-price five-month semester ticket for all lines if they settle taxes in Wroclaw and join the Our Wroclaw programme.
Participants of the programme can also count on a number of extra prizes, such as a free two-hour entrance to the leisure zone in the Aquapark, a ticket to the Zoo, the Hydropolis, or to a match of the Śląsk Wrocław football team or the Panthers Wrocław American football team.
A city bike station is available to students at or near almost every university. The stations are deployed in such a way that students can move from one location to another for free by this municipal means of transport. The first 20 minutes of a city bike ride (such bikes are available in Wroclaw all year round) are free. The city has ensured that bike stations are located near the most important buildings of each of 30 Wroclaw universities and higher education schools.
Today the biggest university is the Technical University of Wroclaw (22,600 students). The University of Wroclaw has 800 students less. The third biggest school is the non-public School of Banking with 15,000 students. A few thousand students study also in the University of Economics (almost 9,000), the University of Environmental and Life Sciences (7,000) and the Medical University (6,000). A majority of Wroclaw students are female students (59,000 out of a total of 106,000).