Strategy for intercultural dialogue – first steps
2017-04-06
Komentarze:
Two months ago – on 31st January – a proposal to create the Wrocław strategy for tolerance together was expressed for the first time at a meeting initiated by the Mayor of Wrocław. The participants applauded this idea, and the magistrate promised to develop the "guidelines" of the strategy not longer than within two months. They were presented on 31st March.
At the first January meeting, Anna Szarycz – the Mayor's advisor for health and social policy and intercultural dialogue – listened intently to opinions, suggestions and doubts concerning the establishment of the program that is to become Wrocław's credo with regard to the multiculturality of our city, including the prevention of xenophobia and intolerance in the broad sense of the word, because she had undertaken the task of creating such a "document".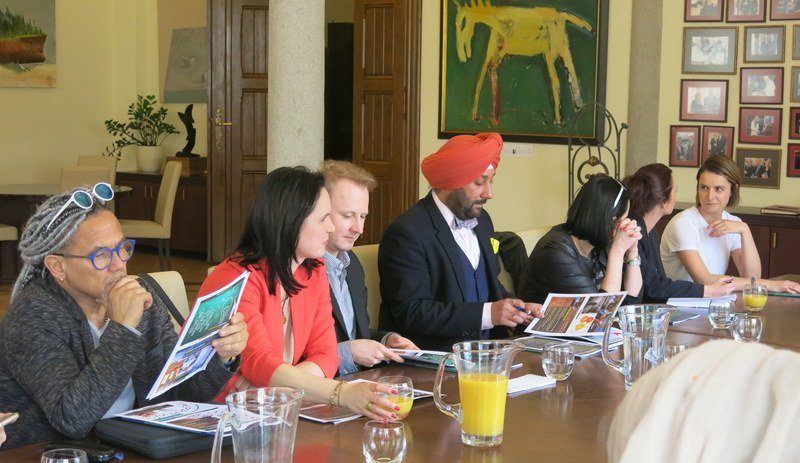 Meeting of the Council in the office of the Mayor of Wrocław on 31st March, photo: mawi
On the last day of March, again in the presence of representatives of various religions, institutional and social environments who had accepted the invitation to the previous meeting and had become more formally members of the Council, Anna Szarycz presented trends on which the Wrocław strategy for intercultural dialogue and the methodology of its development should be based.
'Wrocław is a community of people...
...whose inhabitants live in mutual respect regardless of their origin, cultural distinctness, language or religion. We appreciate the contribution of various cultures to the development of our community and join support activities as a part of international co-operation.' This is the Wrocław vision that we want to achieve, and this is the international dialogue that we want to create, the foundations for which already exist. What foundations? For example, historical evidence of multicultural traditions of Wrocław and its reputation as an economically developed academic city connected with the world by a network of land and air routes, which foreigners choose as a place to work and live.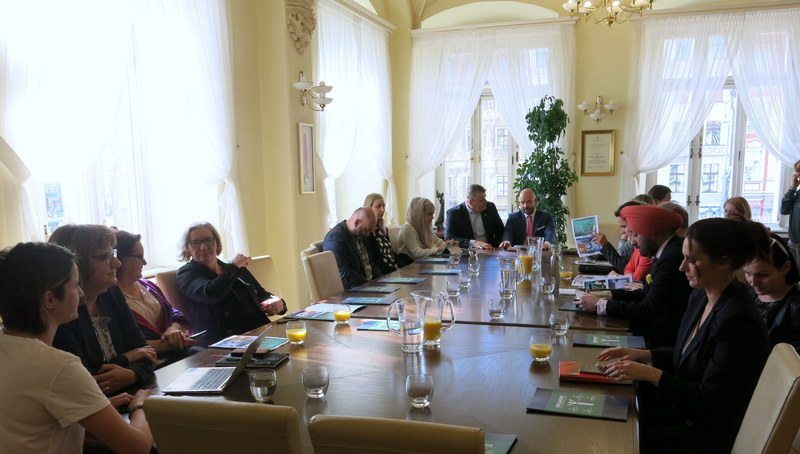 The Council will have several meetings this year, photo: mawi
Is it an idealistic vision? Not for those who have simply lived that way for a long time. However, there is also the other side of the coin – racism, aggression towards strangers, intolerance for unknown traditions and customs, also in the name of specifically understood "patriotism". And there are attempts to justify or even mitigate legitimate sentences passed against xenophobes - this was done by those who should... uphold the law. But we remember the shameful act of burning an effigy on the Wrocław Market Square...
'Poland is a xenophobic country, but the more it is, the more should we do to change this,' says Mayor Rafał Dutkiewicz.
So, to paraphrase the words of the late Wojciech Młynarski, let us do our own thing in Wrocław.
Calling problems by their name
The Council for International Dialogue (which actually means entities identified in the project of the strategy – national and ethnic groups, the team of the Wrocław City Council with its thematic groups, NGOs, enterprises, media, the Lower Silesian Provincial Office, police, universities) is supposed to exist not only on paper. Its task is to identify problems that are encountered by people of foreign origin, people of different religions, or those who are socially excluded due to their disability, poverty or previous criminal record. The Council will also specify what must be done – e.g. by city authorities or municipal services – for specific groups and circles representing different cultures that live in Wrocław and the surrounding urban area permanently or temporarily.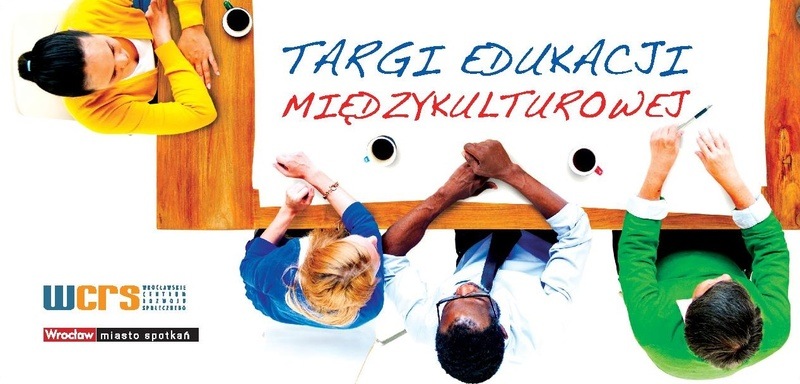 In the nearest future, other inhabitants of the city, including members of NGOs, activists, religious groups and representatives of several other institutions operating in the city and the surrounding area, will be encouraged to join this initiative by specifying areas that should be included in the strategy. This will be a part of the forum of multiculturality, which will be supervised by the Dom Pokoju (House of Peace) Foundation. Two rounds of table meetings have been scheduled for 22nd April this year. Their results in the form of a report will be received for further elaboration by the co-ordinator of the strategy.
Learning, integrating and feeling safe
People to talk with, things to talk about, ways of reacting to evil, people/institutions required to react, methods of reinforcement of intercultural bonds – these are the main (key) areas on which the Wrocław strategy is to be built.
Firstly: knowledge and education – in schools, during training courses and workshops ((e.g., anti-discrimination courses and workshops held by the Wrocław Social Development Centre)), at conferences and seminars, under social awareness campaigns or during intercultural education fairs and meetings with Ambassadors of Dialogue. Education should cover everyone: children, young people and adults. None of these groups is free of behaviours marked by intolerance towards otherness, incomprehension of cultural differences or simply physical aggression. But, undoubtedly, it is adults who are mainly responsible for the formation of attitudes and characters of young people. To put it simply: 'Such will be the Commonwealths as the upbringing of their youth.'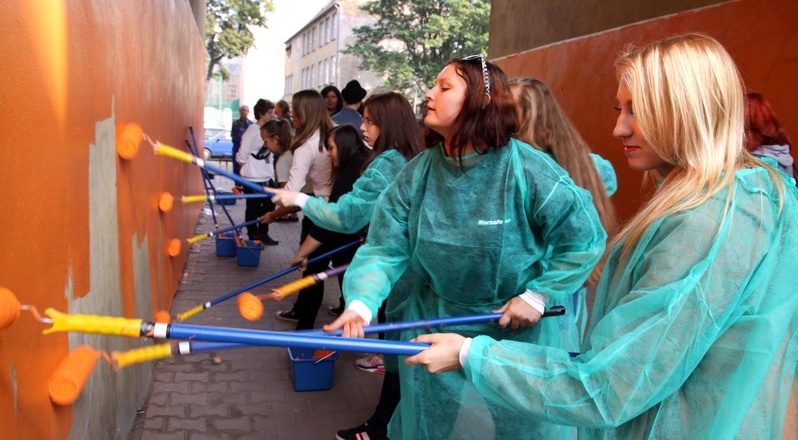 The Wrocław youth has undertaken the task of removing symbols of hatred in the city
source: WCRS
Secondly: safety. Many inhabitants of Wrocław are able to react to acts of racial and national violence and to attempts to discriminate certain groups in their own society. Opportunities to manifest such disapproval include marches, concerts, declarations, etc., and the strategy assumes that this should be continued.
However, many people refrain from reacting to xenophobic behaviours, because they support them or are afraid of their own safety. And here is room for relevant services (the police, the city guard) whose role is to monitor the city area, to intervene and to support victims of violence.
Thirdly: integration. The intercultural dialogue will not last and develop if we avoid promoting cultural diversity and participating in this promotion. Festivals, concerts, various events, cultural centres open to everyone – this is what we should stick to under the Wrocław strategy. Apart from that, we should still engage in assistance to foreigners adapting to life, education and work in Wrocław (e.g., INFOLINK, Polish language courses, more Erasmus-related initiatives in universities) and migrants or refugees looking for support (e.g., the Municipal Social Welfare Centre, the centre at ul. Reymonta).
Wrocław does not close itself off to external problems, either. It expresses solidarity with and organises aid for the international community by engaging in initiatives such as the funding of alphabet books for Conakry, the declaration of support to families from Aleppo or co-operation with the International Cities of Refuge Network (ICORN).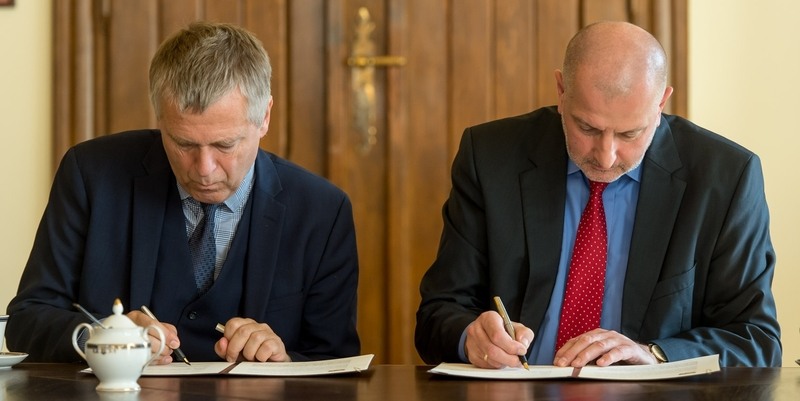 Helge Lunde (ICORN) and Mayor of Wrocław Rafał Dutkiewicz signing a letter of intent on the accession of the Municipality of Wrocław to ICORN,
source: wroclaw.pl
Strategy based on law
The strategy for intercultural dialogue must be founded on the applicable legal order. The leading document is, of course, the Constitution of the Republic of Poland, which is accompanied by the Convention on Human Rights, EU directives, laws and regulations, and local legislation (resolutions of the City Council).
The issue of responsibility for using violence or threats, abusing persons due to their national or ethnic origin, religion or views, or propagating racism or fascism is specified clearly in the Polish Criminal Code (Art. 119 par. 1; Art. 256; Art. 257).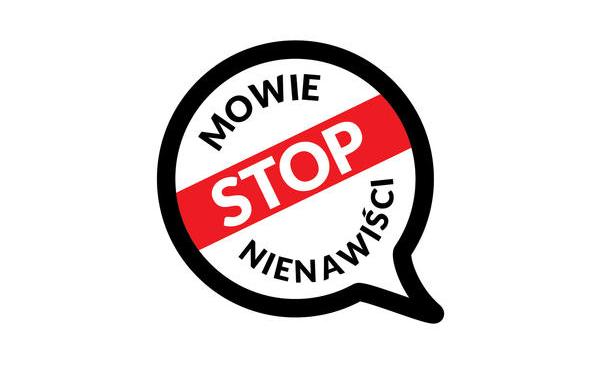 However, the co-ordinator of the strategy stresses that, because of a legal gap, it is quite difficult to specify who is responsible for removing, e.g., slogans or posters containing hate speech. Although the Polish Code of Petty Offences states that 'Anyone who posts an advertisement, a poster, an appeal, a leaflet, an inscription or a drawing in a public place inappropriate for that purpose, or displays it in any other place without approval from the administrator of that place, shall be subject to the penalty of freedom restriction or a fine,' it does not specify who should remove the effects of vandalism, particularly if the perpetrator is not detected. This means that there are no tools in Wrocław, either, to force real property administrators to perform such activities. We can only rely on their good will, empathy and sense of responsibility for the property entrusted to them. If there is none, young people from Wrocław take matters into their own hands with support from sensible adults.
How can the new strategy change this situation? It will specify procedures for reacting and removing hate speech. The aim is to improve the level of knowledge about symbols of hate speech and ability to recognise and react to them. The strategy is addressed to inhabitants, real property administrators, the city guard, the police and school youth.
Updating the strategy
The co-ordinator of the Wrocław strategy for intercultural dialogue specified the framework of "usability" of its program for 5 years, i.e., till 2022, with the reservation that it will be updated with further actions or checked for effectiveness. Members of the Council consider this to be reasonable, particularly due to intense changes in the reality we live in, which is often marked by surprisingly unpredictable moves, for example on various levels of political space.
Participants in the meeting held on 31st March have only two weeks to express their attitude to the outline of the strategy prepared by Anna Szarycz, i.e., to report opinions, proposals for changes, reservations and doubts. And this intense pace of work on the currently sensitive issue of intercultural dialogue seems to be good news. The April-May diagnosis worked out as a result of the forum of the Dom Pokoju (House of Peace) Foundation will be followed by actions aimed at determining methods of action, selecting tools and specifying cost-effectiveness.
As the co-ordinator announces, each additional voice for the strategy and each reasonable support of this idea will be of value to the Council for Intercultural Dialogue. It is also an encouragement for every inhabitant of Wrocław and surrounding urban areas to exert an impact on the image and position of the city and, consequently, assume some responsibility for the place in which they live, work and – as they often declare – 'love very much'.
The Wrocław strategy for intercultural dialogue will be announced in November 2017.