New season and new director at Wrocław Opera
2016-10-18
Komentarze:
Conductor Marcin Nałęcz-Niesołowski has taken over as a new Director of the Wroclaw Opera House as of September 2016. He replaced Ewa Michnik, who ran the venue for more than 20 years and turned it into a thriving institution. Despite his inspiring plans, the new director would like to be appraised at the end of the second season at the earliest. The coming season brings opera performances of Verdi, Rossini, Gounod or de Falla.
Marcin Nałęcz-Niesiołowski formally took over as Wroclaw Opera House Director at the beginning of September. He is nonetheless thoroughly prepared to act in a new capacity, despite a short period of time that has passed since the official commencement of the season. The opera house is in for a few changes: more co-productions with other theatres, a family series, new management at the ballet section, live music during ballet performances and a selection of young talented Polish conductors in the programme. The opera performances will be played in close succession and not once a month (as was the case previously). Auditions will also be carried out to select artists for the roles. The administrative structure will also change, but only slightly. Marcin Nałęcz-Niesiołowski would like to expand his administrative personnel with producers and people to seek new contacts in the opera industry.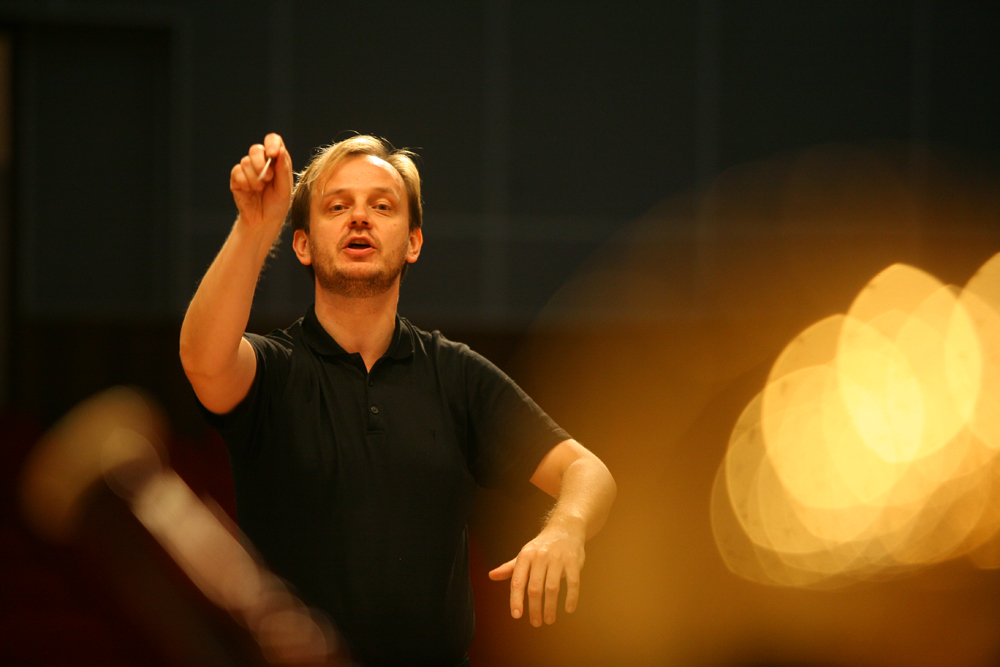 Marcin Nałęcz-Niesiołowski, a conductor and new Director of the Wroclaw Opera House. Photograph: MNN's private archive
Super productions are there to remain. The next season brings "Faust" by Charles Gounod at the Centennial Hall Popular titles such as "Carmen" by Bizet, "La Traviata" by Verdi, "Eugene Onegin" and "The Nutcracker" by Tchaikovsky will still be on show at the Wroclaw Opera House. The future also brings a series of vocal recitals from star performers featured at New York's Metropolitan Opera and other major theatres.
Several theatres, one opera house
Co-productions and collaborative partnerships are the daily bread of every major opera house today, as they help reduce costs and create a spectacle that is be universal for different cultural backgrounds. We can gain a lot both as artists and performers. The intermingling of different communities, or a cultural melting pot, as it were, creates an added value for our opera. Our task is now to speak to these communities," emphasises Marcin Nałęcz-Niesiołowski. The director is planning to collaborate with other theatres, mainly in Europe. "Our plans for the next few seasons include the cooperation with the National Opera of Latvia in Riga to offer a joint première of Verdi's "Il Trovatore" in December by Verdi and the Oper Frankfurt on next year's "Triptych" by Puccini. We are also working with the National Opera to stage "Eros and Psyche" by Ludomir Różycki in order to celebrate next year's centenary of the first performance of the work in Wroclaw," says Marcin Nałęcz-Niesiołowski. Music aficionados will also be happy with the return of Mariusz Treliński. He is going to stage "Idomeneo, King of Crete" by Mozart and "Orpheus and Euridice" by Gluck in collaboration with the Teatro dell & rsquo; Opera di Roma. There is also a plan to première "Forbidden Love", one of Wagner's two opera buffa (this time in collaboration with the Oper Leipzig).
Brand new ballet
The ballet section will also have a new management. Bożena Klimczak will be replaced by two Polish National Ballet dancers Magdalena Ciechowicz and Jacek Tyski. "Our plan is to strengthen our ballet section to make it more recognisable as an ensemble. The audience are also going to enjoy live music during performances," says Marcin Nałęcz-Niesiołowski. The first show with an orchestra has been scheduled for October ("Coppelia" by Delibes) Two ballet premières are planned for this season: a ballet evening combining two different works ("Carmen" by Shchedrin and "Enchanted Love" by de Falla) and "Cinderella" by Prokofiev as part of the family series.
For children
"We are also keen to expand our educational offer, which is why we are planning two premières for children this season," says Marcin Nałęcz-Niesiołowski. These two shows are "Enchanted Magic Flute", which is inspired by Mozart's celebrated opera, and Maciej Małecki's "Pchła Szachrajka" [Flea the Swindler] directed by actress and director Anna Seniuk.
New conductors
Marcin Nałęcz-Niesołowski is very much akin to his predecessor Ewa Michnik in that he is going to act in two capacities: as a conductor and Opera House Director. He is planning to conduct the following performances: "Eugene Onegin" by Tchaikovsky, "Boris Godunov" by Mussorgsky, "Madame Butterfly" by Puccini or this season's first première "Il Trovatore" by Verdi (in December). The newly appointed director would also like to attract young conductors. "These are the names I'm looking for: Jakub Chrenowicz, Wojciech Rodek, Piotr Borkowski, Paweł Przytocki or Jacek Boniecki," says Marcin Nałęcz-Niesiołowski, who has also offered former director Ewa Michnik to conduct her favourite shows. "Ewa Michnik is now pursuing other projects, but she has promised to visit our opera house to attend the premières," explains the new director. Ewa Michnik admits that she is now pursuing plans she could not get round to when she was the Wroclaw Opera House Director. "I had to devote my time and effort to one institution, which was my passion and my life. It is now for Director Nałęcz-Niesołowski to pursue his vision," says Ewa Michnik.
Appraisal? Wait until the next season
Ideally, the Wroclaw Opera House Director would like to be appraised after the second season. "We need a little bit more patience. It is a done thing abroad that new directors are appraised after three or sometimes even four seasons," he explains.
The coming season 2016/2017 brings three opera premières: "Il Trovatore" by Verdi, "Cinderella" by Rossini and "Faust" by Gounod. There are also two ballet premières: "Carmen" by Shchedrin with "Enchanted Love" by de Falla and "Requiem" by Mozart and two premières for families: "Enchanted Magic Flute" and "Pchła Szachrajka ["Flea the Swindler"].