IT industry in Wroclaw: success, growth and transformation. Report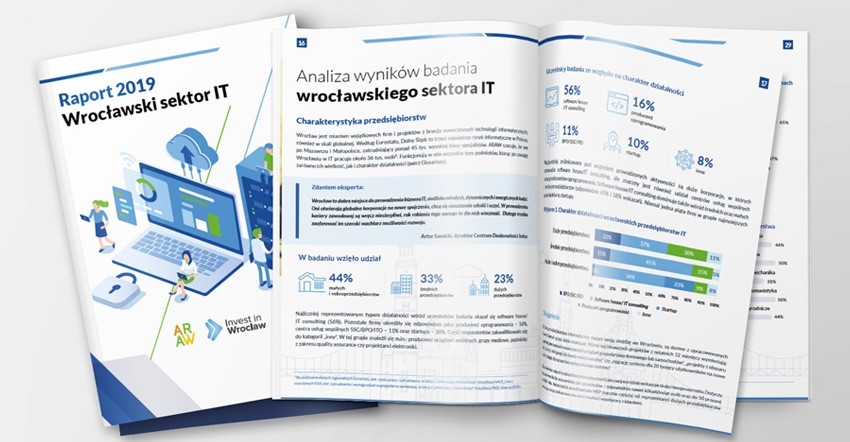 The report is a fruit of a comprehensive study in which 120 companies from the IT industry took part.
36,000 specialists
Representatives of enterprises described in a special questionnaire for which customers they work, which employees they seek, what their plans for the future are, etc.
In addition, 15 CEOs of companies gave in-depth interviews. They talked about their most important projects and about co-operation with the city or universities.
'The study confirms that Wroclaw has become one of the most important technology development centres in Poland. Regardless of their size or country of origin, enterprises operating within our structure have won successive markets and built an international reputation,' says Ewa Kacz, the president of the Wrocław Agglomeration Development Agency.
Around 36,000 persons work in the entire IT industry in Wroclaw, and more than half of companies employ specialists with complex competences. This means that their IT knowledge is combined with fields such as mathematics, economy or even natural sciences.
Wroclaw
4.0?
The most difficult task in Wroclaw is to acquire architects and seniors – specialists with the longest experience and the highest specialisation.
Most of the customers of Wroclaw IT companies are those from abroad. 41 per cent of them come from Europe, and 25 per cent come from other parts of the world. Polish companies account for 34 per cent of customers. For whom do technological enterprises in Wroclaw work? Most often as subcontractors for financial and IT sectors.
The substantive partners of the report are two companies: JP Weber and Randstadt.