Angelus 2021 for Kateryna Babkina
The Angelus Central European Literature Award was granted for the 16th time. This year's award went to Ukrainian writer Kateryna Babkina, the author of the book My Grandfather Danced the Best (Warsztaty Kultury). She received Ewa Rossano's statuette and a cheque for 150,000 PLN.
The first laureate of the award was Ukrainian writer and poet Yurii Andrukhovych in 2006; subsequently, this distinction was also awarded, among others, to Austria's Martin Pollack, Hungary's Péter Esterházy, Belarus' Svetlana Alexievich, Romania's Varujan Vosganian, Poland's Maciej Płaza, Bulgaria's Georgi Gospodinov or Slovenia's Goran Vojnović.
The Angelus Central European Literature Award is granted to authors from one of the Central European states (Albania, Austria, Belarus, Bosnia and Herzegovina, Bulgaria, Croatia, Czech Republic, Estonia, Lithuania, Latvia, Macedonia, Moldova, Germany, Poland, Russia, Romania, Serbia, Slovakia, Slovenia, Ukraine, Hungary) for the first editions of their books published in the previous year.
The organiser and founder of the award is the City of Wroclaw. The award is granted annually for the best prose book published in Polish in the previous year. Its aim to give special distinction to books that deal with the most significant topics of the present.
Silesius Award for Kamila Janiak and Aleksander Trojanowski
In the Book of the Year category, the jury selected Kamila Janiak's volume Zakaz rozmów z osobami nieobecnymi fizycznie [Prohibition of Conversations with Physically Absent Persons] (Wydawnictwo WBPiCAK, Poznań). The writer also sings in musical bands (e.g., Krůk or Das Moon) under the moniker Daisy Kowalsky. Kamila Janiak, fot. Max Pflegel/Wrocławski Dom LiteraturyIn the Debut of the Year category, the award went to Aleksander Trojanowski for the volume Parkingi podziemne jako miasta spotkań [Underground Car Parks as Meeting Places] (Biuro Literackie).  Trojanowski works as an assistant lecturer at the Faculty of Philology of the University of Wroclaw, where he does research on literature written in Spanish.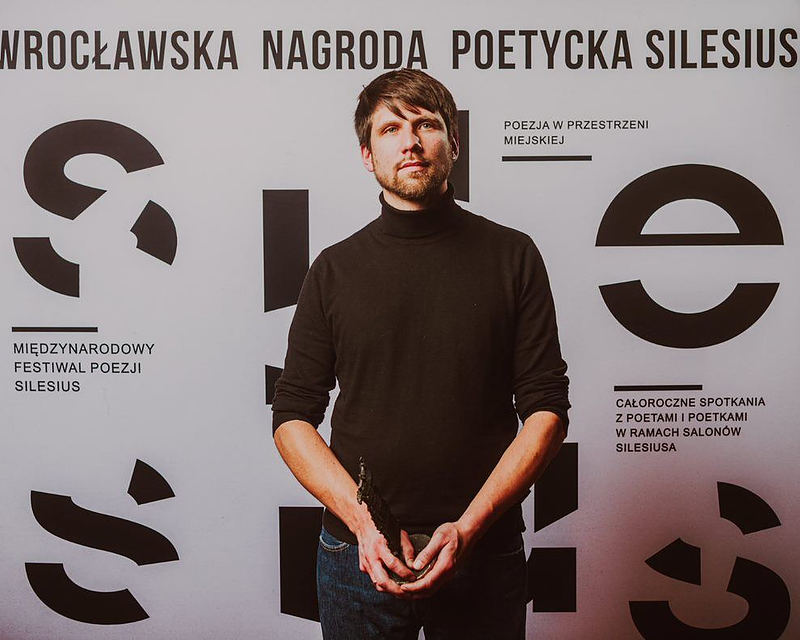 Aleksander Trojanowski, fot. Max Pflegel/Wrocławski Dom Literatury
Silesius Lifetime Achievement Award for Ryszard Krynicki
The laureate was born in 1943 in Lager Wimberg, Austria, where his parents had been deported. He is unquestionably recognised as one of the most important contemporary Polish poets, and critics rank him on a par with Adam Zagajewski, Stanisław Barańczak or Julian Kornhauser.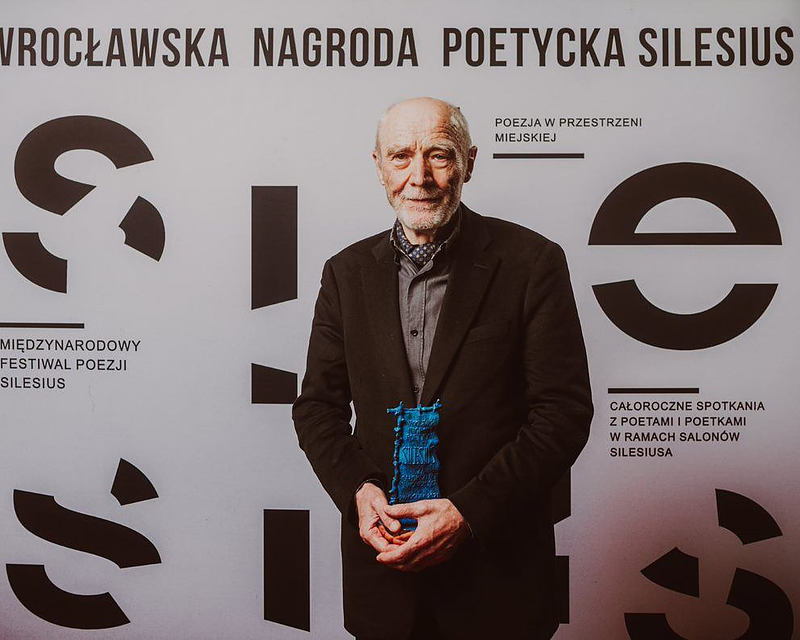 Ryszard Krynicki, fot. Max Pflegel/Wrocławski Dom Literatury
About the Silesius Award
Funded by the City of Wroclaw and granted since 2008, the Silesius Poetry Award is aimed at the recognition and promotion of the most important Polish poets and poetry books. It is granted for the first releases of books published between 1st January and 31st December of the previous year.
The lifetime achievement award is worth 100,000 PLN, the Book of the Year award – 50,000 PLN and the Debut of the Year award – 20,000 PLN.