Nick Vujicic at ODNFEST 2019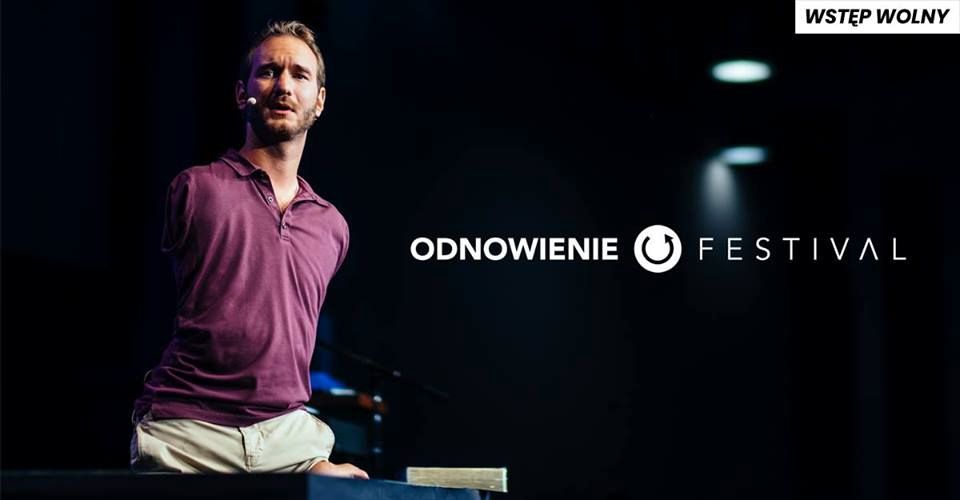 ODNFEST 2019 is already the third edition of the festival organised by the Wroclaw Covenant of Pastors and Christian communities and organisations, the aim of which is to strengthen unity without barriers and to build understanding between people above all divisions on the basis of Christian values.
30th

May - 1st

June attractions at Wyspa Słodowa
From 30th May till 1st June, a special SFERA tent will be located at Wyspa Słodowa, where Wroclaw inhabitants can visit workshops and a photo exhibition and listen to plenty of good music. There will also be an opportunity to meet very interesting and inspiring people.
On Children Day (1st June), the island will turn into the city's biggest playground, thus becoming one of the attractions of the Month of Family organised by the Wrocław Centre for Social Development.
Nick Vujicic – the final star of ODNFEST
Taking consideration of the huge interest aroused by Nick Vujicic's previous visits to Poland, the organisers of the ODNFEST Festival have prepared as many as 40,000 free entrance passes to the Sunday finale (2nd June) that will be held at the Wroclaw Stadium.
Special attention is devoted to disabled persons, for whom more than 2,000 seats will be prepared.
Free entrance passes for all participants will be available online at ebilet.pl from 15th April.
Nick Vujicic was born without hands and legs as a result of a very rare disorder, but he has a great sense of humour, a huge passion for life, a beautiful wife and four children. As a child, he contemplated suicide and grappled with depression, loneliness and lack of hope, but he changed his attitude to life when he was 15.
Thanks to the wisdom and commitment of his parents, he decided to live his life to the fullest in spite of his physical constraints. He started to believe that he can do everything with God and that his life makes sense and has a purpose. Today he speaks to millions of people and writes bestsellers.