The British writer is well known in Lower Silesia. This dates back to 2016, when he was invited to a meeting with inmates of the prison in Wołów. The writer was nicely surprised with it and said it had been one of the best meetings in his life, considering the perfect preparation of prisoners, their interest in his works, knowledge of his books, but also reflections on life.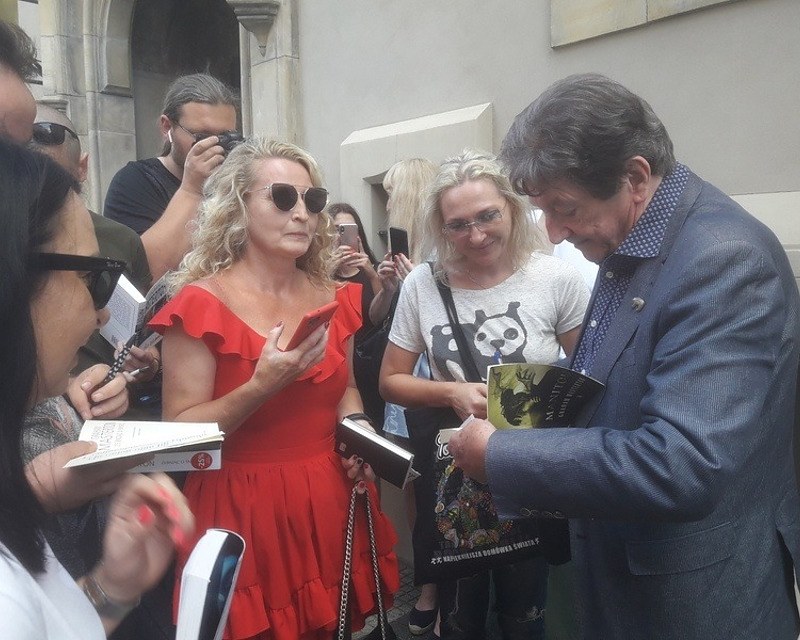 This resulted in an idea to organise a literary competition for prisoners, the fifth edition of which is under way (the submission of works has just ended).
On Saturday at 6:00 p.m., Masterton appeared in the centre of Wroclaw, where he unveiled his dwarf. On that occasion, he also gave lots of autographs to fans of his books.
'When the city of Wroclaw told me they were going to honour me in this splendid manner, I was not very excited at first. I would have nothing against a full-size monument in a confident pose in the Market Square. The shrimp that was proposed to me did not quite fulfil my ambitions. But later I gave it second thought and I found it to be nice. I guess this is my tenth visit to Wroclaw, but certainly not the last one. I have many friends here,' said Masterton.
The British writer also announced three further premieres of his books in Poland during the next several months. The monument unveiled by Masterton presents him holding an open book out of which the Indian shaman from the novel Revenge of the Manitou comes.
The film Manitou based on the book and starring Tony Curtis was shown in the Nowe Horyzonty Cinema at 6:30 p.m., where the writer met his fans and answered their questions.