From 24th September, 9:00 a.m., voting in the Wroclaw Citizens Budget 2021 (WBO 2021) is possible. You can choose from among 173 projects; the deadline is on 11th October. The total budget amounts to 25 million PLN.
The rules of WBO 2021 are the same as last year. You can choose from among municipal projects and housing estate projects. Each inhabitant of Wroclaw has one voice that entitles him to choose not more than one housing estate project worth up to 750,000 PLN and one municipal project worth up to 2 million PLN.
Change Wroclaw with WBO
Wroclaw inhabitants may vote in WBO 2021 regardless of their age, registered residence or citizenship. Registration of residence is not required, but only Wroclaw inhabitants are entitled to vote. This fact is declared in the voting form. Children and foreigners living in Wroclaw are also entitled to vote.

How to vote?
You may vote online on: www.wroclaw.pl/wbo or via paper forms. In order to ensure direct voting, paper cards are numbered and will be released to inhabitants individually in voting points. Voting points are located in Resident Service Centres:
G. Zapolskiej 4

Nowy Targ 1-8

W. Bogusławskiego 8,10

M. Kromera 44
Voting points are open during working hours of the City Office.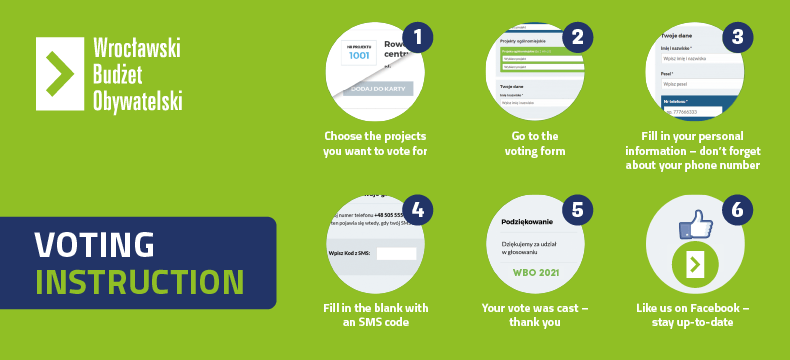 Foreigners not having a Polish Resident Identification Number (PESEL) may vote via paper forms. In the absence of an ID card, these persons are required to state the number of another identity document in a voting point.
When voting online, you have to state your mobile phone number. A text message with a code confirming your vote will be sent to the stated number. Your vote will be recorded in the system only after the activation code is entered in the voting application. Up to 5 persons may vote from one telephone number. The voting person will not bear any costs in this respect.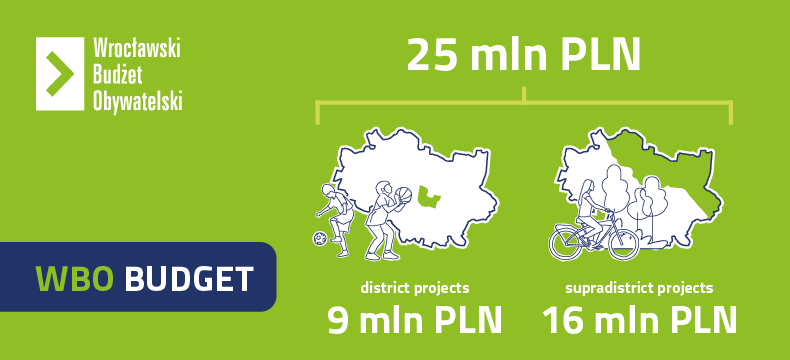 What projects can be voted in WBO 2021?
The voting list contains 173 projects, including 96 housing estate projects and 77 municipal projects. You will find all of them in the project search tool [link] allowing you to view and select them easily using a number of parameters (territorial reach, housing estate, type, category, project number). Projects approved for voting will appear when you select the 'dopuszczone do głosowania' ('approved for voting') filter and click 'szukaj projektów' ('search projects').
Projects submitted for voting by category:
green areas / recreation – 63

pedestrian / bike routes – 30

sport – 16

playgrounds – 15

revitalisation – 11

backyards - 10

roads – 4

non-investment projects – 4

public transport – 1

others – 19
Budget of WBO 2021
The total amount of WBO 2021 is 25 million PLN, of which 16 million PLN will be spent on municipal projects and 9 million PLN on housing estate projects.
The projects that received successively the biggest number of votes will be selected for implementation until the exhaustion of funds within the scope of housing estate projects and municipal projects.
The results of the voting will be published on: www.wroclaw.pl/wbo and the Public Information Bulletin (BIP) of the Wroclaw City Office.