Summer music festivals in Wroclaw
After a long break, Wroclaw inhabitants will again have an opportunity to see their favourite artists live during music festivals. What summer festivals are worth entering into your calendar? Who and when plays in Wroclaw in June, July and August? Below you will find a list of open-air concerts that you can attend in summer.
This is what music fans have been awaiting for over a year. If you love good music in the open air, you should not complain – a few interesting events have been planned from June till September. And this is probably not the final word of the organisers.
June
Vertigo Summer Vibes Festival
A new summer music festival in Wroclaw promoting young artists. Vertigo Jazz Club & Restaurant opens up to new rhythms – in June, we can spend time there with R&B, soul, groove, funk, pop and rock sounds.
Concerts will take place at popular open-air venues. On June weekends, you can listen to music, e.g., on city beaches, in meeting places or recreational areas in various parts of Wroclaw.
Concerts are free of charge.
World Guitar Record in Wroclaw
This year thousands of guitar fans will make an attempt to break the... World Guitar Record. One of the biggest guitar music festivals will take place live on the Pergola and in online version on 19th June.
Last year 7,990 guitars played Hey Joe online together. In the history of the Guinness World Guitar Record, the 2020 event is marked as a 'special online event'. This year, minimum 7,424 guitars will be need to break the record, which means one more guitar than during the previous "live" record in 2019.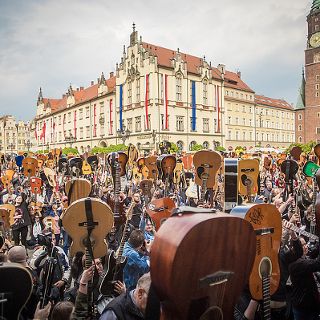 19 czerwca 2021 12:00
Pergola we Wrocławiu
Zobacz
Vertigo Summer Jazz Festival
These are 31 festive days with jazz music. This is the third edition of the festival. Until then, concerts have been held in clubs, on roofs, in parks, on city beaches or in trams. What will happen this year? We will know soon, as the program of the festival has not been announced yet.
Some events are free of charge.
July
3-majówka in Wroclaw (2nd–4th July 2021)
This year is the second consecutive year when 3-majówka could not be held traditionally in May. However, the May picnic will take place exceptionally in July – you can except lots of positive emotions and a galaxy of stars on the stage near the Pergola and the Centennial Hall.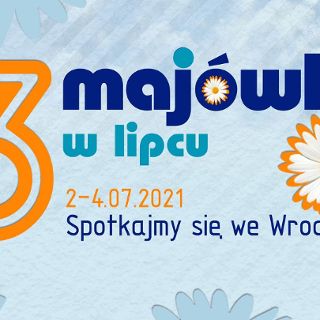 od 2 lipca 2021 do 4 lipca 2021
Centennial Hall
Zobacz
During three festival days, Leszek Możdżer, Clock Machine, Maria Peszek, Ralph Kamiński, Spięty and many other artists will play at 3-Majówka. Ticket prices: from 89 to 135 PLN.
Stay Wild Festival 2021 (9th–10th July 2021)
On 9th–10th July 2021, the first edition of the Stay Wild Festival will be held close to a unique hippodrome: the Wroclaw Horse Racing Track at Partynice.
The line-up will include Krzysztof Zalewski, sanah, Ania Rusowicz, Daria Zawiałow, Kaśka Sochacka, Sorry Boys, Fisz Emade Tworzywo, Bitamina, Skubas and others.
WROsound (16th–17th July)
This year's edition of the WROsound festival presents a new line-up inspired mainly by electronics and rap and promises extra attractions to participants and fans.
On Plac Społeczny square in front of the Impart. The festival returns to the two-day format. For the time being, the following artists have confirmed their presence in 2021: HVOB, Meek, Oh Why?, Tomasz Makowiecki, Jacek Sienkiewicz, MIN t, Syny, Coals and Biały Tunel.
Craft Open Wrocław (23rd–25th July 2021)
It is a three-day music festival at Partynice, during which young artists will gain an opportunity to play with popular Polish music stars on one stage.
The line-up includes, among others, Kamil Bednarek, KARAŚ/ROGUCKI, Smolasty and Ania Karwan.
July–August
Letnie Brzmienia Wrocław [Summer Sounds] (23rd July – 29th August)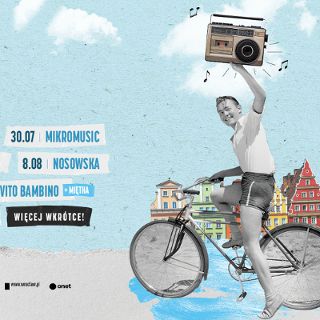 od 23 lipca 2021 do 29 sierpnia 2021
Plac Społeczny Przestrzeń Kreatywna
Zobacz
This kind of festival has never taken place in Wroclaw before. For over a month, only stars will perform on the open-air stage near the Impart at Plac Społeczny square every weekend. From the middle of July until the end of August, there will be concerts of the most popular Polish artists, including the Kwiat Jabłoni duo, sanah, Artur Rojek, LemON, Nosowska, Ania Dąbrowska, MROZU and many others.