World Games 2017: Millenum Park looks forward to new track and road
2015-11-30
Komentarze:
Wrocławskie Inwestycje has put out to tender two sports infrastructure projects to be completed in Millennium Park. The projects provide for the overhaul of ul Sukielicka and the construction of a roller skating track. The facility will be used by the World Games 2017 competitors.
Ulica Sukielicka provides access to the planned facilities. The street will be overhauled to facilitate it with one more entry from ul Rogowska. Apart from the lane, the builders will provide pavements and parking spaces for visitors.
However, the World Games organisers are keener on the other facility, namely the roller skating track. There are two tracks to be constructed. The facility is 218.85 metres in length, the track itself measuring 200 metres in length and 6 metres in width. The track will be surrounded by safety barriers that are 1.2 metre in height above track level and are made of transparent and shock-resistant materials and special 20-cm-tall shock-resistant panels that will be mounted just 2 cm above track level. The track surface is designed to be made of concrete.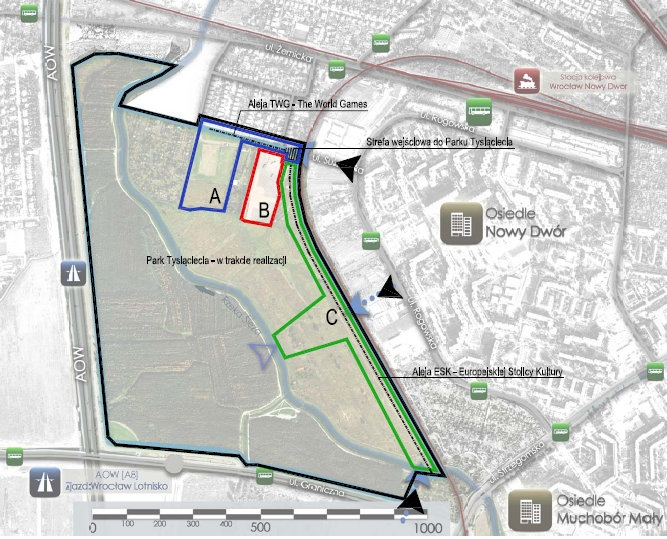 The second track is designed for street racing. The total length of the facility being 620.61 metres, the track itself measures 580 m calculated 30 cm away from the track's edge and along the shortest distance to the finish. The track is designed to be 8 metres in width. With three pinch points distributed on the way, the longest straight stretch of the track is 108 metres in length. The street track's longer edge is connected to the fast track with a surface of 2.7 metres in width, which provides for a common measurement system from start to finish.
Additionally, the facilities will be fenced off and made suitable for further extension, as they are designed to serve other sports once the World Games come to a close. Both investments are expected to be completed by Q1 2017.
ram